TNW12 experience
During the last year, I have had privilege to attend lots of entrepreneurship events, conferences and mingles. In the last week of April, once again our team decided to show off our solution and platform in the next web conference.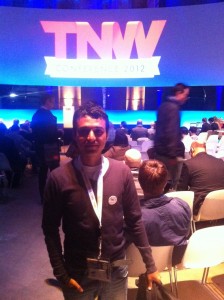 It was simply superb. We had also a small stand and that gave us enormous opportunity to talk to lots of people, partners, potential customers and journalists. Below are my notes about what I loved and what I didn't like about this specific conference.
Easy access to speakers: Speakers had a route to a special place called "speaker bar" so you could have a drink with speaker and ask your questions and I simply loved it. No more chasing of speakers to just get the answers. I managed to talk to youtube cofounder very easy.
Access to the journalists and bloggers: Journalists were accessible too. It is not only the matter of if I want to pitch my company, but to ask some other questions or have industry related conversation that matters for me; For instance I had a chance to talk to robert scoble. I wanted to understand his enthusiasm and interest regarding the future and what he thinks will be a problem for human being in the near future in the framework of Web/mobile(well in summary he doesn't think privacy is the issue but ADDICTION is).
Startup stands: In a clean and nice design. while in some other conferences, startup stands are not well shaped or located, in TNW12, it was simple design and well organized.
This was our first time to attend TNW and I recommend it to other entrepreneurs as well. there were two things that can be done much better though. The food was not superb( conference food is important because it takes lots of energy to talk to tons of people. believe me about this)
Furthermore, majority of companies were regarding consumer services. I hope next year they can add a section for companies that target developers or B2B companies which are still related to web but are not consumer product/Service. While consumer services are sexy and perfect food for journalists, but B2B startups or startups that work with developers have lots of potentials and they deserve for more attention as well. I hope next year we can have more companies in this area at the conference.
Recommendation: Watch Alexis ohanian keynote. it is so inspiring.